Parents
Remember to check back for the most up-to-date information.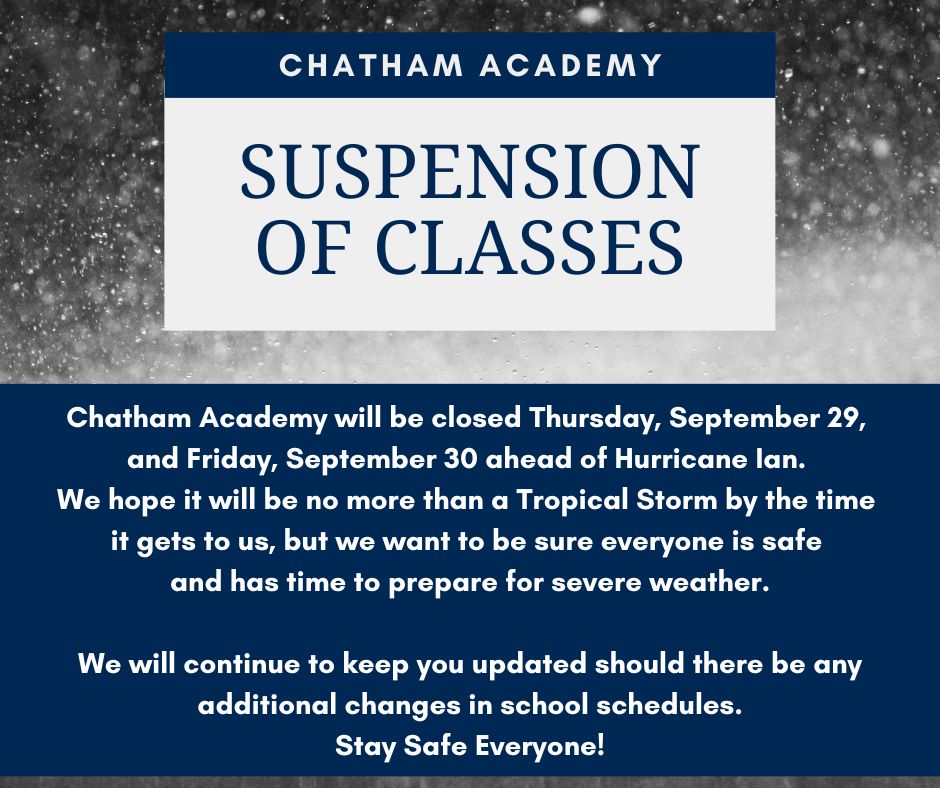 We are tracking this system via the National Hurricane Center:
https://www.nhc.noaa.gov/graphics_at4.shtml?start#contents

---
Progress Reports

Progress Reports were updated to Sycamore for you to review on Monday, September 19.

We need you to verify that you have seen them. To do so, hover over your student profile, and select "Documents."
You will see 2022 - 2023 Grade Card - Q1. Click on that, and you will be able to review the Progress Report.
At the bottom of the form, please sign your name, then hit "Update" in the top right hand of the screen.

Here is a step-by-step instructional video.

If you have any questions, please call the Front Office.
---


---
Sycamore

This video will help guide you through the process to log into Sycamore:



Watch Video
---

---
Follow this QR Code for Lunch, Donations and more!


---
APOGEE SCHOLARSHIP FUND / GEORGIA STATE TAX CREDIT PROGRAM
Did you know if you pay Georgia state taxes, you can opt to redirect them to Chatham Academy?
The Apogee Scholarship / Georgia State Tax Credit program is the main funding source of our scholarship fund. This means so much to the families that receive scholarships; some of who turn to Chatham Academy as their last hope.

It is also an easy way to give back without having to give extra.

Essentially, you are redirecting your Georgia State taxes to Chatham Academy. You will still have to pay your taxes, but with this program, your tax dollars stay in Savannah to provide academic scholarships for our students.

We encourage you to visit our partner at apogee.org, or call our Director of Development, Guien Cutlip, at 912.354.4047.

By paying your taxes forward, you can help other potential students get the quality education only Chatham Academy can provide them.
Any amount is greatly appreciated as our families rely on this scholarship fund, and all funds received by Chatham Academy are used only for academic scholarships.

We sincerely appreciate your time and consideration.
___________________________________________________________________________________________________________________________________________________
* Please check back frequently as additional information regarding the 2022 - 2023 school year will continue to be updated.
Information is subject to change.